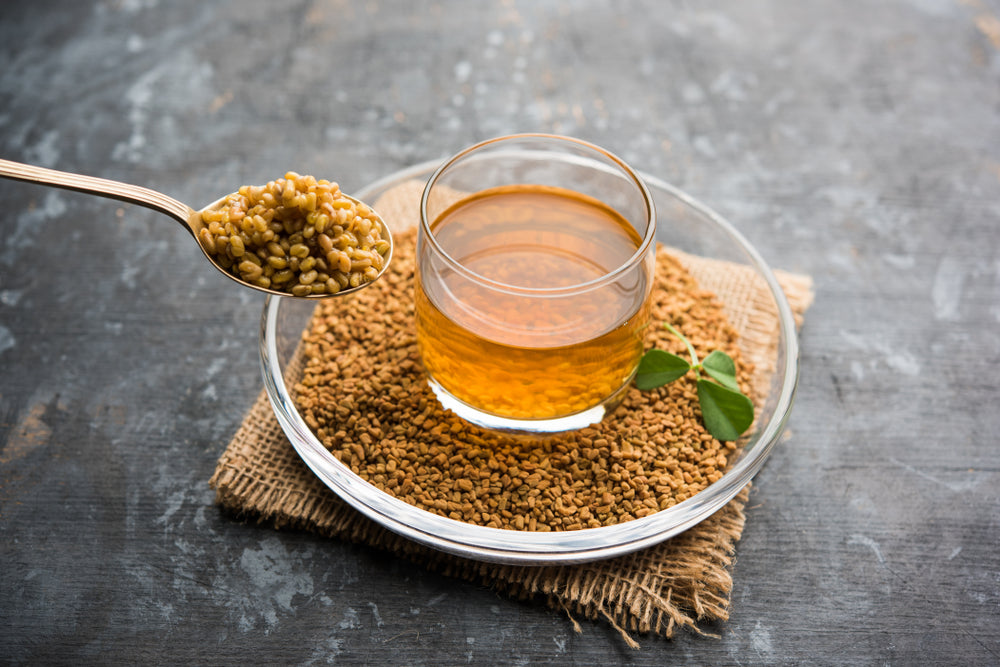 Overview
Fenugreek is an herb that is similar to clover. It is native to the Mediterranean region, southern Europe, and western Asia. The seeds are used in cooking, in medicine, and to hide the taste of other medicine. Fenugreek seeds smell and taste similar to maple syrup. Fenugreek leaves are eaten in India as a vegetable.

Fenugreek is taken by mouth for diabetes, menstrual cramps, high cholesterol, and many other conditions, but there is no good scientific evidence to support most of these uses.

In foods, fenugreek is included as an ingredient in spice blends. It is also used as a flavoring agent in imitation maple syrup, foods, beverages, and tobacco.

In manufacturing, fenugreek extracts are used in soaps and cosmetics.
Classification
Is a Form of:
Herb
Primary Functions:
Diabetes, menstrual cramps, high cholesterol
Also Known As:
Alholva, Bird's Foot, Bockshornklee, Bockshornsame, Chandrika
How Does It Work?
Fenugreek appears to slow absorption of sugars in the stomach and stimulate insulin. Both of these effects lower blood sugar in people with diabetes.
Uses
Diabetes. Taking fenugreek seed may lower blood sugar levels in people with diabetes. Doses of at least 5 grams daily seems to help. Lower doses don't seem to work.
Menstrual cramps (dysmenorrhea). Taking 1800-2700 mg of fenugreek seed powder three times daily for the first 3 days of a menstrual period followed by 900 mg three times daily for the remainder of two menstrual cycles reduces pain in women with painful menstrual periods. The need for painkillers was also reduced.
Sexual problems that prevent satisfaction during sexual activity. Taking 600 mg of a specific fenugreek seed extract (Libifem, Gencor Pacific Ltd.) each day seems to increase interest in sex in healthy younger women with a low sex drive.
Increasing response to sexual stimuli in healthy people. Taking 600 mg of a specific fenugreek seed extract (Testofen, Gencor Pacific Ltd) each day seems to improve ability and interest in sex in older men that have started to lose interest and in healthy younger men.
Recommended Dosing
The following doses have been studied in scientific research:

BY MOUTH:
For diabetes: 5-100 grams of powdered fenugreek seed added to one or two meals daily for 4 days to 3 years has been used. A dose of 1 gram daily of an extract of fenugreek seeds has been used.
For menstrual cramps (dysmenorrhea): 1800-2700 mg of fenugreek seed powder three times daily for the first 3 days of menstruation, followed by 900 mg three times daily for the remainder of two menstrual cycles, has been used.
For sexual problems that prevent satisfaction during sexual activity: 600 mg of fenugreek seed extract (Libifem, Gencor Pacific Ltd.) each day for two menstrual cycles.
Fenugreek Supplements Frequently Asked Questions
What is fenugreek supplement good for?
Its extracts are also in soaps and cosmetics. Historically, fenugreek was used for a variety of health conditions, including digestive problems and to induce childbirth. Today, fenugreek is used as a dietary supplement for diabetes, to stimulate milk production during breastfeeding, and for other health conditions.
What are the side effects of fenugreek?
Side effects may include diarrhea, stomach upset, bloating, gas, dizziness, headache, and a "maple syrup" odor in urine. It may also cause nasal congestion, coughing, wheezing, facial swelling, and severe allergic reactions in sensitive people.
Is fenugreek safe to take everyday?
Use of more than 100 grams of fenugreek seeds daily can cause intestinal distress and nausea (recommended dose is less than 8 grams per day).
Does fenugreek increase testosterone?
Fenugreek has been researched for its potential to naturally increase testosterone. It contains compounds called furostanolic saponins, which are believed to increase testosterone production. The study found that testosterone levels increased by up to 46% in an impressive 90% of the participants.
Does fenugreek make you gain weight?
Fenugreek may suppress the appetite and increase feelings of fullness, which could help reduce overeating and lead to weight loss
Why is fenugreek bad?
Risks of trying fenugreek supplements
In fact, fenugreek has been used for centuries to induce labor. Fenugreek may act like estrogen in the body, so it should not be taken by women with a history of hormone-sensitive cancers. And it may negatively interact with the blood thinner warfarin to cause internal bleeding.
Who should not take fenugreek?
Do not take fenugreek without first talking to your doctor if you have a bleeding or blood clotting disorder or diabetes, or if you are taking any medicines to prevent or treat a blood clotting disorder or diabetes. Fenugreek has been reported to affect blood clotting and blood sugar levels.
Why does fenugreek make you smell?
Fenugreek contains an aromatic compound called solotone, which is responsible for the sweet-smelling "perfume" your sweat emits. Deodorize: Sure, syrup isn't the worst thing to smell like, but entire days of this strong scent lingering can grow rather nauseating.
Can fenugreek cause liver damage?
Fenugreek is an herb prepared from the dried seeds of Trigonella foenum-graecum which is used for its antioxidant and glucose- and cholesterol-lowering effects in the treatment of fever, vomiting, poor appetite, diabetes and hypercholesterolemia. Fenugreek has not been implicated in causing liver injury.
Is fenugreek bad for kidney?
Thus, fenugreek seeds can be used as a regular nutrient to alleviate the side effects of Al ingestion, not only in the brain and bone, but also in the kidneys, especially for chronic renal failure patients who are more susceptible to developing aluminum toxicity.
Does fenugreek make your breasts bigger?
Perhaps among the most well known benefits of fenugreek is the way it enhances breast size in these two ways: by mimicking the effects of estrogen and by stimulating the production of prolactin. Fenugreek safely and naturally stimulates tissue growth resulting in bigger, firmer, and fuller breasts.
What happens if a man takes fenugreek?
Fenugreek can increase male libido. Researchers found that men taking fenugreek can boost their sex drive by at least a quarter. Over the centuries, foods such as asparagus, almonds and bananas have been called aphrodisiacs, but few have survived the rigors of clinical studies. Fenugreek can now boast it has.
Is fenugreek safe for males?
The researchers concluded that fenugreek supplementation was a safe and effective treatment for reducing symptoms of possible androgen deficiency, improves sexual function and increases serum testosterone in healthy middle-aged to older men.
Is fenugreek good for erectile dysfunction?
Interestingly, a survey of over 500 men suffering Erectile Dysfunction (ED) has revealed that methi or fenugreek extracts combined with an amino acid can perk up a beaten libido back into action. Fenugreek has the ability to promote natural testosterone levels and improve libido.
Is fenugreek OK for men?
One of the most common reasons men use fenugreek supplements is to boost testosterone. Some studies have found that it has beneficial effects, including an increased libido. One 6-week study provided 30 men with 600 mg of fenugreek extract to assess changes in sexual function and libido.
Does fenugreek reduce weight?
Fenugreek seeds can make for an excellent addition to your weight loss diet. Galactomannan, a water-soluble component found in methi dana, is said to be very effective in supressing appetite. Methi seeds are also known to boost metabolism and digestion.
When should I stop taking fenugreek?
Fenugreek and Breastfeeding
It has been found that fenugreek can increase a nursing mother's milk supply within 24 to 72 hours after first taking the herb. Once an adequate level of milk production is reached, most women can discontinue the fenugreek and maintain the milk supply with adequate breast stimulation.
How much fenugreek seeds should I take per day?
Soaked fenugreek seeds can be consumed every day on an empty stomach in the morning. But don't eat more than 1 teaspoon of seeds every day.
How long does it take fenugreek to work?
Fenugreek capsules work fast, so lucky moms will probably see an increase in milk production in as little as 24 to 72 hours. Others may have to wait about 2 weeks — and sometimes fenugreek just isn't the answer.
Can fenugreek raise blood pressure?
Fenugreek may help regulate cholesterol levels and improve blood pressure, which can reduce the risk of developing heart conditions and improve heart health. This may be because fenugreek seeds contain roughly 48 percent dietary fiber.
Is Fenugreek Safe?
When taken by mouth: Fenugreek is LIKELY SAFE for people when taken by mouth in amounts normally found in foods. It is POSSIBLY SAFE when taken by mouth as a medicine for up to 6 months. Side effects may include diarrhea, stomach upset, bloating, gas, dizziness, headache, and a "maple syrup" odor in urine.
Does fenugreek make your pee yellow?
Fenugreek may change the color and smell of the urine. Although this is not harmful, your doctor may question this change in color or odor since it may be similar to that caused by the metabolic disorder "maple syrup urine disease".
Does fenugreek interact with any medications?
Fenugreek might slow blood clotting. Some medications that slow blood clotting include aspirin, clopidogrel (Plavix), diclofenac (Voltaren, Cataflam, others), ibuprofen (Advil, Motrin, others), naproxen (Anaprox, Naprosyn, others), dalteparin (Fragmin), enoxaparin (Lovenox), heparin, warfarin (Coumadin), and others.
Is fenugreek anti inflammatory?
Reduce inflammation
The substantial levels of antioxidants in fenugreek give it great potential as an anti-inflammatory agent. Results of a 2012 study in mice suggest that the high antioxidant flavonoid content in fenugreek seeds can reduce inflammation.
Clinical Studies
Share this