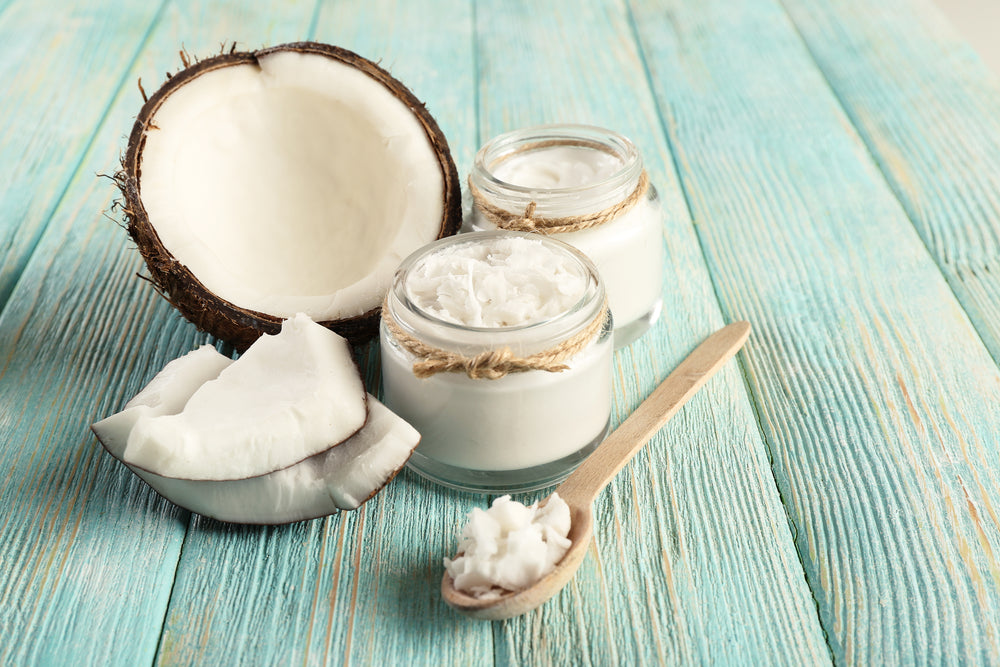 Overview
Coconut oil comes from the nut (fruit) of the coconut palm. The oil of the nut is used to make medicine. Some coconut oil products are referred to as "virgin" coconut oil. Unlike olive oil, there is no industry standard for the meaning of "virgin" coconut oil. The term has come to mean that the oil is generally unprocessed. For example, virgin coconut oil usually has not been bleached, deodorized, or refined.

Some coconut oil products claim to be "cold pressed" coconut oil. This generally means that a mechanical method of pressing out the oil is used, but without the use of any outside heat source. The high pressure needed to press out the oil generates some heat naturally, but the temperature is controlled so that temperatures do not exceed 120 degrees Fahrenheit.

People use coconut oil for eczema (atopic dermatitis). It is also used for scaly, itchy skin (psoriasis), obesity, and other conditions, but there is no good scientific evidence to support these uses.
Classification
Is a Form Of:
Oil from the nut (fruit) of the coconut palm
Primary Functions:
Eczema
Also Known As:
Aceite de Coco, Acide Gras de Noix de Coco, Coconut Fatty Acid, Coconut Palm, Coco Palm
How Does It Work?
Coconut oil contains a certain kind of fat known as "medium chain triglycerides." Some of these fats work differently than other types of saturated fat in the body. When applied to the skin, coconut oil has a moisturizing effect.
Uses
Eczema (atopic dermatitis).Applying coconut oil to the skin can reduce the severity of eczema in children by about 30% more than mineral oil.
Athletic performance. Early research shows that taking coconut oil with caffeine doesn't seem to help people run faster.
Breast cancer. Early research shows that taking virgin coconut oil by mouth during chemotherapy might improve quality of life in some women with advanced breast cancer.
Heart disease. People who eat coconut or use coconut oil to cook don't seem to have a lower risk of heart attack. They also don't seem to have a lower risk of chest pain. Using coconut oil to cook also doesn't lower cholesterol or improve blood flow in people with heart disease.
Tooth plaque. Early research shows that pulling coconut oil through the teeth might prevent plaque build up. But it doesn't seem to benefit all teeth surfaces.
Diarrhea. One study in children found that incorporating coconut oil into the diet can reduce the length of diarrhea. But another study found that it was no more effective than a cow milk-based diet. The effect of coconut oil alone is unclear.
Dry skin. Early research shows that applying coconut oil to the skin twice daily can improve skin moisture in people with dry skin.
Death of an unborn or premature baby. Early research shows that applying coconut oil to a premature baby's skin doesn't reduce the risk of death. But it might reduce the risk of developing an infection in the hospital.
Lice. Developing research shows that using a spray containing coconut oil, anise oil, and ylang ylang oil may help treat head lice in children. It seems to work about as well as a spray containing chemical insecticides. But it's unclear if this benefit is due to coconut oil, other ingredients, or the combination.
Infants born weighing less than 2500 grams (5 pounds, 8 ounces). Some people give coconut oil to small breastfed babies to help them gain weight. But it doesn't seem to help infants born weighing less than 1500 grams.
Multiple sclerosis (MS). Early research shows that taking coconut oil with a chemical from green tea called EGCG might help to reduce feelings of anxiety and to improve function in people with MS.
Obesity. Some research shows that taking coconut oil by mouth for 8 weeks along with diet and exercise leads to notable weight loss in more obese women compared to taking soybean oil or chia oil. Other early research shows that taking coconut oil for one week can reduce waist size compared to soybean oil in women with excessive fat around the stomach and abdomen. But other evidence shows that taking coconut oil for 4 weeks reduces waist size compared to baseline in only obese men but not women.
Growth and development in premature infants. Premature infants have immature skin. This might increase their chance of getting an infection. Some research shows that applying coconut oil to the skin of very premature infants improves the strength of their skin. But it doesn't seem to reduce their chance of getting an infection. Other research shows that massaging premature newborns with coconut oil can improve weight gain and growth.
Scaly, itchy skin (psoriasis). Applying coconut oil to the skin before light therapy for psoriasis doesn't seem to improve the effects of light therapy.
Alzheimer disease.
Chronic fatigue syndrome (CFS).
A type of inflammatory bowel disease (Crohn disease).
Diabetes.
A long-term disorder of the large intestines that causes stomach pain (irritable bowel syndrome or IBS).
Thyroid conditions.
Recommended Dosing
The following dose has been studied in scientific research:

CHILDREN

APPLIED TO THE SKIN:
For eczema (atopic dermatitis): 10 mL of virgin coconut oil has been applied to most body surfaces in two divided doses daily for 8 weeks.
Coconut Oil Supplements Frequently Asked Questions
How many coconut oil pills should you take a day?
Most capsules contain 1 gram per capsule. In order to get 2 tablespoons (30 ml) per day, you would need to take about 30 capsules on a daily basis. For most people, this just isn't realistic. Instead, try using coconut oil for cooking or include it in recipes.
Is coconut oil pills good for your skin?
However, coconut oil may be linked to some potential benefits for skin, including reducing inflammation, keeping skin moisturized and helping heal wounds. The medium-chain fatty acids found in coconut oil also possess antimicrobial properties that can help treat acne and protect the skin from harmful bacteria.
Why is coconut oil bad for you?
Coconut oil is high in saturated fatty acids, and saturated fat has been linked to high cholesterol levels and heart disease. The harsh processing may destroy some of the good essential fatty acids and antioxidants, such as lauric acid, a medium chain fatty acid believed to raise good H.D.L. cholesterol.
Does coconut oil pills help your hair grow?
Coconut oil is a natural way to help your hair grow longer, thicker, and faster. The vitamins and essential fatty acids naturally found in coconut oil nourish the scalp and help to remove sebum build-up from hair follicles.
What is coconut oil used for sexually?
According to a 2014 study, coconut oil is clinically proven for safe and effective use as a moisturizer. Its moisturizing properties may make the product an effective lube and allow for longer-lasting intercourse. For women going through menopause, coconut oil may be especially helpful.
Why should I take coconut oil capsules?
Coconut oil is high in certain saturated fats. The fatty acids in coconut oil can encourage your body to burn fat, and they provide quick energy to your body and brain. They also raise HDL (good) cholesterol in your blood, which may help reduce heart disease risk (1).
What are the side effects of coconut oil?
Other coconut oil-linked side effects include headache, dizziness, fatigue, swollen glands, joint or muscle pain, stomach upset, chills, hives or rashes, or other adverse skin conditions. When taking coconut oil, you have several options, including: Stir-fry.
Does coconut oil make you poop?
Coconut oil may have a laxative effect. Proponents, like blogger Hybrid Rasta Mama, claim that coconut oil may increase metabolism and help food pass more quickly through the body. This may mean more frequent and smaller, softer bowel movements.
Does coconut oil capsules help you lose weight?
Still, while many studies link MCT oil to weight loss, research on coconut oil's effect on weight loss is lacking. Numerous human studies have found that MCT oil consumption may promote feelings of fullness and that replacing LCTs with MCTs may lead to modest weight loss ( 15 , 16 ).
Why coconut oil is bad for your hair?
Coconut oil can cause protein build up for these hair types, blocking your hair from much needed moisture which makes your hair even drier, stiffer and less elastic. Therefore, using coconut oil as a hair mask can actually make your hair drier, brittle and more damaged than it was before!
Is coconut oil healthy or unhealthy?
Too much saturated fat in the diet is unhealthy because it raises "bad" LDL cholesterol levels, which increases the risk of heart disease. But what's interesting about coconut oil is that it also gives "good" HDL cholesterol a boost.
s coconut oil healthier than olive oil?
In terms of health impacts, it is better to cook with olive oil. Compared to a tablespoon of olive oil, a tablespoon of coconut oilcontains about six times the amount of saturated fat, nearly meeting the daily limit of about 13 grams that the American Heart Association recommends.
How often should I put coconut oil in my hair?
To avoid buildup, start with a small amount—no more than a teaspoon—and gently massage the oil through your hair, starting at the midsection and continuing to the ends. For best results, some hair-care experts suggest using coconut oil about two to three times a week.
Can I leave coconut oil in my hair overnight?
As a hair mask: Rub coconut oil through your hair and let it sit for a few hours (or even overnight) before washing it out. As a scalp treatment: Before bed, massage a small amount of coconut oil into your scalp. Leave it overnight and wash it off with shampoo in the morning.
Can you put coconut oil inside your vag?
Coconut oil is oil based which can put your as risk for a biofilm in your vagina and therefore at risk for recurrent bacterial infections. Also, anytime your natural vagina flora is affected you can put yourself at risk for a yeast infection. I believe coconut oil is safe to try in moderation for vaginal dryness.
Does coconut oil increase breast size?
CAN ENLARGE THEM: Breast massage can help increase blood circulation in this fat-storing tissue. Due to massage, a breast enlarging hormone, prolactin, is also secreted. You can opt for either an essential oil like lavender for this massage or even warm coconut oil can lead to a change in size.
Can coconut oil whiten teeth?
Summary. Although not everyone agrees, coconut oil has been known to whiten teeth through a method called "oil pulling." You can combine coconut oil with baking soda or activated charcoal, or you can use straight-up coconut oil to help whiten your teeth and remove bacteria from your mouth.
Can I use coconut oil as lotion?
"Coconut oil is a natural anti-inflammatory, and full of fatty acids that help improve the skin barrier," says Dr. Nazarian. "It also melts into the skin easily with a little gentle rubbing, and it can feel cosmetically elegant. If you've got the right skin type, coconut oil can be great when used as a moisturizer.
Does coconut oil remove dark spots?
According to beauty bloggers like DIY Remedies, coconut oil can lighten skin and may help reduce the appearance of dark spots or uneven skin tone. Adding lemon juice may enhance this effect.
Clinical Studies
Share this